Ebony-Jewel Rainford-Brent - CHAIR
Ebony-Jewel Rainford-Brent is a former England Cricketer, World Cup Winner, Broadcaster, Surrey County Cricket Club Board member and the first Black woman to play cricket for England.
Ebony's career as a player spanned nearly 20 years, where she captained Surrey Women, and at the highest level was part of the successful England Squad that won the ICC Women's World Cup, World T20 and Ashes in 2009.
Since retiring, she has gone onto a successful career in the media as a Broadcaster and now cover's international men and women's cricket for Sky and BBC and has travelled the world covering major tournaments.
In January 2015, Ebony returned to her home club and became the first Director of Women's Cricket for Surrey County Cricket Club and joined the Board. During her time she has overseen a period of increasing professionalism for the domestic women's game as well as founding the ACE Programme.
Ebony's has also been part passionate about Sports development, early on worked as a coach for 10 years in the community and became one of the first Chance to Shine Ambassador Coaches.
During her time at The Lord's Taverners she was instrumental in the developing of The 'Wicketz' Programme designed to support disadvantaged groups to access cricket as well as Super 1's to create more competitive opportunities for disabled young people to access the game.
Ebony sits as a Trustee on the Chance to Shine Board.
Ebony now uses her platform and voice to support underrepresented groups in the game. She is passionate in particular on wanting to increase the engagement with the Black and African and Caribbean heritage communities with the game of cricket, as well as moving the dial forward with a positive narrative.
Chevy Green - director of programmes
Previously Cricket Participation Manager for Surrey Cricket Foundation (SCF) – Chevy worked seven years for SCF and in that time introduced, promoted and developed cricket notably within SCF programmes such as Disability, Diverse Communities and Women & Girls across Surrey and South London to children and adults in a safe and enjoyable way.
Chevy's sports development experience has seen him progress from a community coach, development officer to participation manager, which has provided him the knowledge, experience and passion to lead the ACE Programme as Director.
Having a calm demeanour and excellent communication skills make him approachable and a brilliant relationship builder within the community.
Chevy will now lead the ACE Programme as Director and manage a team of four staff plus the expansion of the programme into Birmingham
"I am whole heartedly invested in empowering children and adults from all communities to engage within sport & physical activity, to develop mentally, physically, tactically and socially! I will ensure we support diverse talent from the grassroots to the elite by building trust, developing and maintaining relationships with local communities and key stakeholders."
Chanielle Abdullie - ADMINISTRATOR
Chanielle has spent her life immersed in sports in all aspects. She has spent over 15years training and competing in a multitude of sports with numerous years of coaching and team management under her belt. Having studied sports throughout her years, she has graduated with a degree in Sports Development.
Alongside training and competing in numerous sports, she has also spent many years coaching and mentoring players with her spending her 2nd and 3rd years at university as Trampoline Captain and Club President respectively for her Gymnastics and Trampoline Team. Once graduated, she made her way into the professional world of sport working at an athletics track and gym site. During this time she finetuned her skills whilst working on membership, sports and school bookings for the site whilst being a point of call for members and non members alike.
Neneto Davis - COMMUNITY COACH
Taking part in cricket programmes himself, Neneto is no stranger to the type of work The ACE Programme is doing. After years of playing cricket, Neneto took the steps to begin coaching in order to leave a positive impact on the youth of today. For the last 12 years, he has been working with the Ben Hollioake Learning Centre and Surrey County Cricket Club working with local schools, community engagement programmes and the KBC development courses.
Outside of his roles at Surrey he is the head coach for Streatham & Marlborough CC, one of the premier clubs in South London with a wide diverse membership, many of which are of African and Caribbean heritage. As part of this role within Streatham & Marlborough CC, he works with the junior coordinator and junior head coach to identify players who have the capability to play senior cricket, particularly focusing on the U15-U19 playing within local competitions and the National U19 T20.
Neneto is now an ECB Level 3 coach.
Shamar Anderson - COMMUNITY COACH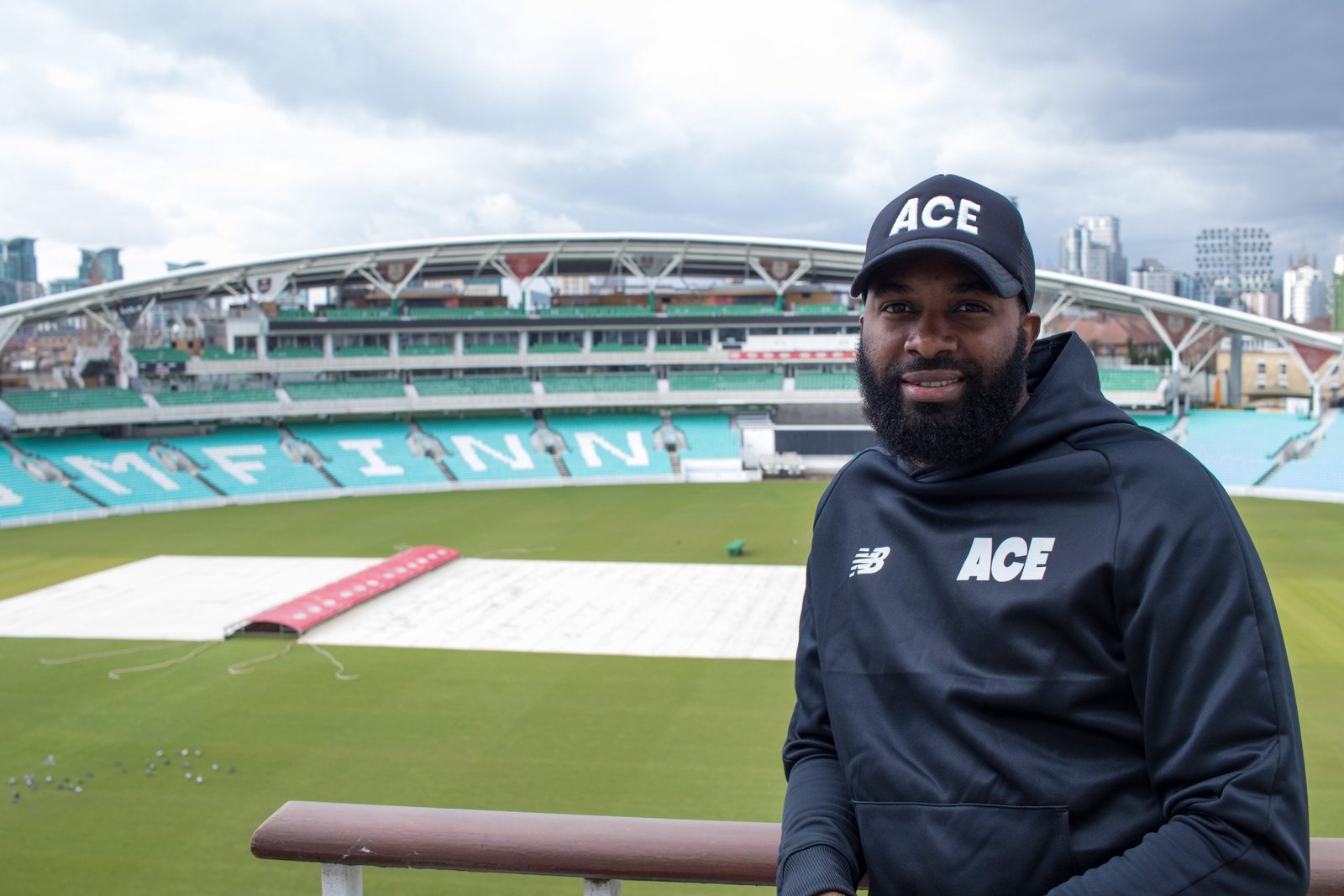 Having played cricket for over 21 years and spending time playing at a first class level in Jamaica, Shamar's love of the game spurred him on to adapt his skills and become a coach. Since 2011, he has been an assistant coach and lead coach to a number of different teams so has an abundance of experience to pull from. From 2018 to date Shamar has been working with the Surrey Cricket Foundation and Ben Hollioake Learning Centre as well as coaching on the Surrey Development and Performance courses, focusing on the Surrey CCC Performance and County age groups.
Shamar is now an ECB Level 3 coach.
JAIME NEWELL - OPERATIONS MANAGER
Originally qualified as a personal trainer, Jaime shifted over to a career in cricket in 2018 to follow his passion. Starting as a Community Coach with the Berkshire Cricket Foundation, Jaime progressed to becoming a Cricket Delivery Officer before joining the ACE team.
Having experienced the barriers in cricket as a young person of Afro-Caribbean heritage, he is eager and driven to serve the community, to create a lasting change in the game, generate equal opportunities for those that are under-represented and to drive inclusivity and diversity in the wider game of cricket.
Jaime is now an ECB Level 3 coach.
THEO GORDON - BRISTOL DEVELOPMENT OFFICER
Starting from a young age, Theo has actively played cricket throughout the years. He played straight through his school years leading him to play senior matches for Kingston CC and The Police Officers Club in Jamaica at just 15 years of age.
Theo has been a Gloucestershire Performance coach since 2015 using his skills to coach a variety of age groups while undertaking the role of Head coach and youth co-ordinator between the years of 2016 and 2018 at Bristol West Indian Phoenix CC.
Still very actively playing, Theo has a vast array of knowledge in all aspects of the sport from him playing career in Jamaica, the UK and the US. He has a wealth of experience from being a player, captain and development squad manager to name a few, which makes him an excellent fit for the programme.
With his knowledge of the sport, local playing and connections within the local area, there is a plethora of opportunities for Theo to make a difference in Bristol.
Theo is now an ECB Level 2 coach.
EATON GORDON - Birmingham DEVELOPMENT MANAGER
Working with Warwickshire County Cricket Board as their Community Cricket Development Manager, Eaton knows exactly how to make ACE effective.
Having previously coached the Warwickshire U11 girls from 2012, Eaton has the perfect background to help develop all ACE players across all formats while championing the push for more girls to get into cricket.
"Getting ACE underway in Birmingham is a huge step forward for the local cricketing community.
Our initial focus is on growing the level of participation in schools, but we hope that these new cricket sessions will inspire many of these youngsters to join in each week at Handsworth CC and Holford Drive and to get involved in the local club game"
LeRon "Ronnie" Barker - BIRMINGHAM DEVELOPMENT OFFICER
Ronnie has been coaching cricket in Warwickshire for over 16 years, including coaching at WCCC Academy and many other WCB coaching projects over that time. He also brings extensive experience having worked in the financial sector, in schools, with vulnerable young people and up until recently, a high calibre club player.
Ronnie's appointment gives ACE the platform and resource to keep growing the Programme after an excellent start at the Handsworth CC Hub. In addition, Ronnie's in depth knowledge of Coventry and the surrounding area will be a huge asset to the whole ACE team as we look to expand and deliver our offering across the county in clubs, schools and community settings.
"I am really looking forward to this new role, and excited about all the opportunities this next phase in the development of the ACE Programme in Birmingham will bring. I am familiar with the ACE Programme having been involved with delivery of the ACE programme in schools ,and the ACE Hubs at Handsworth CC and the winter Academy at Warwickshire CCC. There is so much we can do to grow cricket in the African and Caribbean community across the county. We have some very talented cricketers on the ACE Programme already, and I am looking forward to identifying and supporting many more."
Ronnie is now an ECB Level 3 coach.
ANDRE JACKSON - SHEFFIELD DEVELOPMENT OFFICER
Andre's cricket journey started at the age of 10 years old at Chris Gayle's home club, Lucas Cricket Club in Kingston, Jamaica where he found his passion for cricket and spent time developing his skills at their cricket summer camps and playing some of their Junior Cup games before I migrating to England where he continued his cricket journey.
Andre has always had an interest and been involved in sports. This led him to study sports at college, and go on to study a degree in Sport Massage and Sports Coaching.
Being heavily involved with his local cricket club, Caribbean's Sheffield, Andre is involved in playing for the first team and also coaching in the grass roots programmes and in the wider community. "I am looking forward to inspire and develop as many young children in schools and communities with fun cricket sessions, and also help with the transition from the grass roots to academy level."
Andre is currently undertaking his ECB Level 2.
Patrick Gada - NOTTINGHAM DEVELOPMENT OFFICER
Patrick is a former first class cricketer with extensive playing experience (professional/semi-professional) in Zimbabwe, the United Kingdom, Republic of Ireland, United States of America and New Zealand. In 2013, Patrick was a member of the West Indian Cavaliers CC winning the ECB National Premier League Club competition as well as the Nottinghamshire Premier league title.
To bolster his cricketing expertise, he has been coaching in numerous schools and county age groups since 1995. with him holding the position of Manager and lead coach for the Nottingham Marylebone Cricket Club Foundation (MCCF) Hub for boys and girls (U11 – U16) since 2018.
Patrick has a first class honours Bachelor of Science (BSc.) degree in Coaching and Sports Science, a Multidisciplinary Masters` degree in Psychology, Research Consultancy and Inter-cultural Communication as well as a Postgraduate Diploma (PGDip.) in Psychology. He wealth of education in sports on top of his playing and coaching experience makes Patrick an exceptional addition to the team.
Patrick is a qualified club cricket umpire, has the ECB Diploma in Coaching Young People and Adults Cricket and is now a Level 3 coach.